Want to learn how to write the best resume? You have just arrived at the right post online. Today, you will learn how a really good resume looks like as well as some tips that can strengthen it further. Ready? Let's get started.
Good Sample Resume: How Does It Look Like?
Personal and contact information: This is the first section of the resume.Don't know should you write resumes with photo? It must contain your name in a slightly larger font size than the rest of the text in your application. Then, write your home address, phone number or mobile number and email address. You can put this section in the center of the page, or you can flush it left. Remember to keep it simple and avoid any decorative elements on this part.
Career summary: This has replaced the objective section in most modern resumes. The objective section is an outdated element that must be skipped in the resume. The career summary is an overview of who you are and what you can do. It is what can indicate your position or brand when it comes to the requirements in the job. You can make use of bullets or a short paragraph composed of only up to six lines. Use concise and short wording here. As you know, employers or recruiters only spend about six seconds in reading a resume. Therefore, make it as easy as possible for him to get the gist of your application at a glance. List your achievements and your strengths in a succinct manner. A simple format is always better and you can use professional resume examples.
Education: It is one of the elements of the best resume samples that make them best. Highlight your educational background, stating your schools' names, your degree and your GPA. Write these in the reverse chronological format, too, meaning the most recent go first.This section is always used in any example of resumes.
Work experience: This is considered one of the most important parts of the best resume samples. This includes a list of jobs you have handled. Remember not to list those jobs that have nothing to do with the application, meaning you should not include those experiences that are not in the same industry or prove to be insignificant to highlight or prove you are worth receiving an interview invitation from the employer.
Skills section: This is the part where to include your professional skills or expertise to handle or take on the responsibilities required of the position. Aside from this skills section, you can add in additional skills next to it, containing the transferrable skills, which you can use for this new application.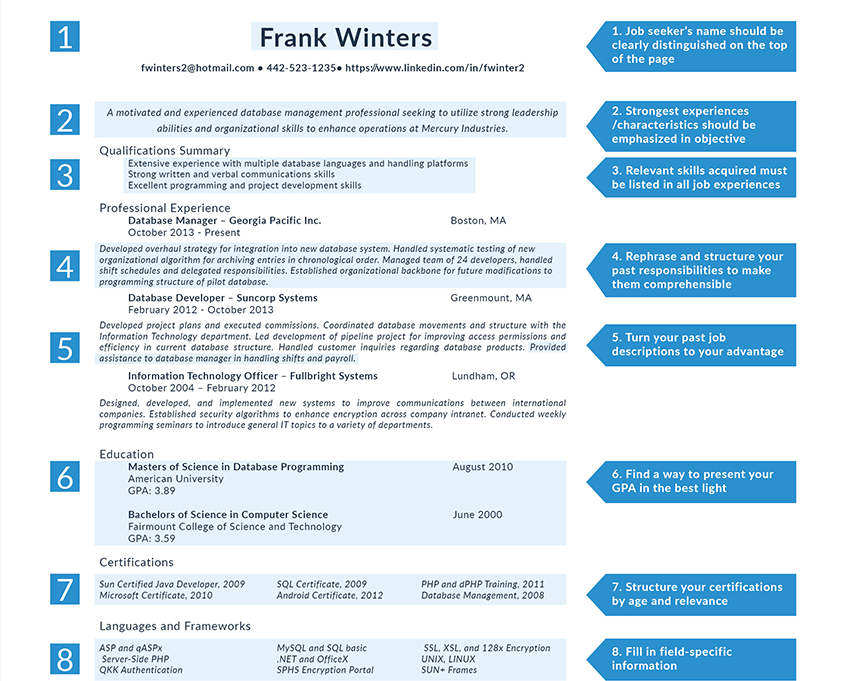 Best Resume Samples Tips
Tailor the CV or resume per application.
Use concise but simple language.
Use a simple format.
Choose the right font, such as Calibri.
Proofread and edit.
Use a one-column or two-column layout.
Above is how to do resume that increases your chances to land your dream job this year. Do not start writing without reading and understanding the job advertisement so that you can meet the qualifications and requirements as stated by using relevant words that the recruiter has used in the advertisement.
Use the best resume sample today!