Looking for example of good resume? If so, don't start writing unless you have completed reading this article that will tell you about the characteristics of a good resume that can capture its readers attention.
Example of Resumes: How to Write One
It has been said that recruiters only spend about six seconds in reading an application. In this case, you should be really thinking and executing a good strategy on how you can make a stellar CV or resume that catches the attention of the employer at a glance. Here are the most important components of a good CV or resume. Check out the following and learn how make a resume that works!
Personal and contact details
Professional summary or career summary
Education (including names of schools, GPA, awards, honors, scholarships, degree received)
Work experience (including a list of the most significant achievements or accomplishments, not job duties); Most recent company, position and accomplishments
Skills ( highlighting your professional skills, using industry related words and action words to demonstrate your familiarity and knowledge of the job or position)
Additional skills
Activities
Affiliations, memberships, organizations
Additional information
*This is only a general overview that most modern and professional resumes contain; you may modify or adjust based on what you want to emphasize in the CV or resume.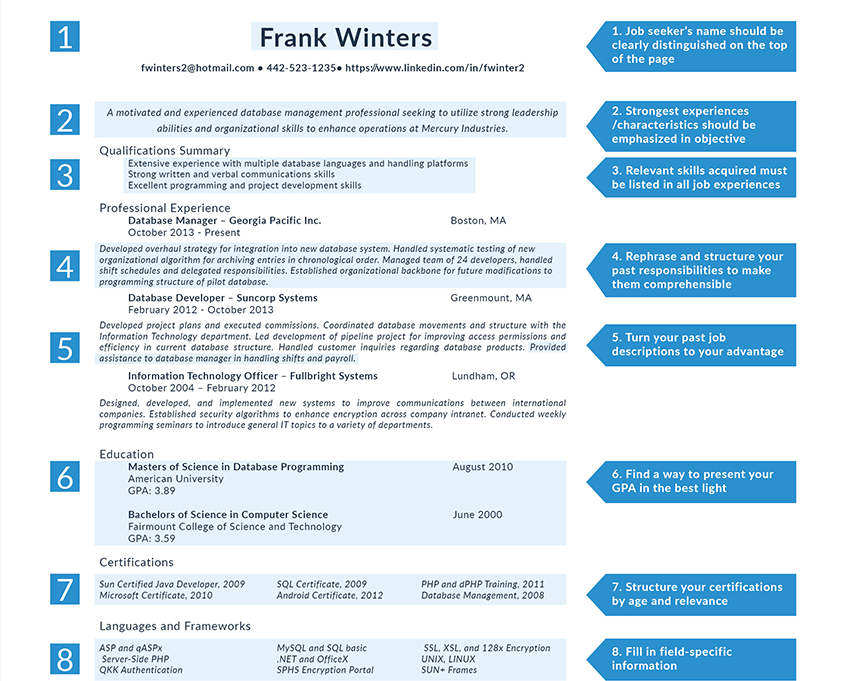 Example of Resumes: Best Tips to Remember
Choose a professional format for your CV. Some popular choices, include chronological, functional and combination. The first is used by those with solid work experience and years in the field; the next is used by those shifting careers from another industry to another. The last one is used by those who have both the work experience and the skills to write in a strong resume. A functional format can be used by freshers who don't have the work experience yet.
Stay away from creative resumes if you belong in a more serious industry, such as medicine or engineering. Use such if you are in graphic design and web design, among other creative fields.
Example for resume also highlight that job seekers keep a professional presentation of their resume, using black and white, one inch on each margin, A4 paper, PDF for email version, Microsoft Word for printed and professional font, such as Calibri.
A good CV samples also has social media links or online portfolio links. These can also add to the appeal of your application. The employer can check on your online links and verify your skills and work experience. This may also be a good idea if you are a graphic designer or website designer who wants to show some live links of their work samples.
There you have what to know about a good resume sample that you can follow for yourself for an impressive application. See to it that the CV reflects your best assets and skills that show how you are a good fit for the new application. Do not send your resume without checking on the most important elements and characteristics it should possess for a strong one.
Learn more tips from an example of good resume today!